Home Epoxy Floor Installation
Give Your Floors a Fresh New Look
If you are looking to create an industrial look in your home, epoxy is a great option. It's durable, easy to clean, and can be customized with any color or design imaginable. Painter Bros offers the best residential epoxy flooring in the industry.
Our products are durable, easy to install, and will last for years. You can choose from our wide selection of products such as resin flooring, epoxy floor coating, epoxy resin floor, concrete epoxy, and even mix your custom color.
What Should I Consider When Getting Epoxy Flooring Installed?
Before applying an epoxy coating, the condition of the existing flooring must be evaluated. If there is no paint, the surface should be thoroughly cleaned and prepared first. The ground must be clean enough to accept a new stain, which means that dirt, oil, grease, and other contaminants must be removed. It is important to note that if the floor has multiple coats of paint, each coat should be thoroughly sanded down before applying another coat of paint so that it can permeate evenly through all coats of old paint.
In an active household with pets or kids, you should keep in mind that epoxy floors can be slippery when wet and will need regular maintenance and upkeep for them to remain durable and functional. You should also ensure that there is enough space to let your floor dry after cleaning.
"Lucas in Houston was very knowledgeable and answered all of my questions and then some! I feel very comfortable working with Painter Bros."

- Ben Jones

"The team over at Painter Bros was really great to work with! The quality of work was outstanding. They were very efficient with their time and got in and out quickly while doing a great job. Would highly recommend!"

- Lehi Kafri
1

2

3

Protect Your Furniture & Non-Paint Areas

4

5
SOME OF OUR
Frequently Asked Questions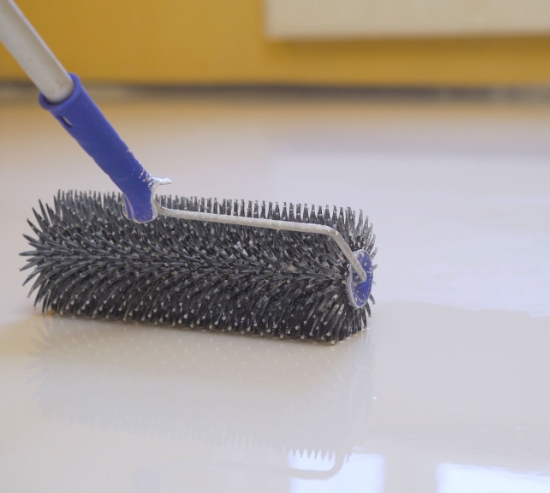 What Is the Process to Properly Epoxy a Floor?
Our epoxy floor installation team adheres to a detailed, proven process:
Step One: It is essential that the floor be clean of all dust and residue before starting to prime. For this, you can use an industrial vacuum with a brush roll or sweepers on it for even small particles like dirt to get picked up from your floors.
Step Two: If the floor has a coating, make sure to remove it with a grinder (this is necessary so that the new epoxy can bond directly to the substrate.) If all of the previous coatings aren't removed, the risk of premature failure is high.
Step Three: Acid etching is a standard method of preparing concrete for epoxy coating. The acid removes all grease and oil from the surface, opening up pores so that an even layer coat of sealant can be applied more quickly than before, with no impurities in the way.
Step Four: Apply epoxy by using a squeegee to create the perfect finish and durability. Multiple coats are usually required for best results, so be sure to follow instructions carefully.
Step Five (optional): Slip resistance can be improved by adding freckling or media to the floor.
Step Six: Protect your floor by applying a clear coat of epoxy. This will give it an extra layer of protection and make cleaning up any spills easier.
The Painter Bros team prides itself on being innovative and always thinking outside the box to solve problems and provide solutions. If you are interested in learning more about epoxy floor coatings for your home, don't hesitate to give us a call. We would love to start a conversation and explain our services. We also offer free estimates to give you a better idea of what to expect with your project.