Residential Cabinet Painting
Leave the Detailed Painting Jobs to Us
Painting cabinets is often deemed a project that is too difficult to take on yourself, as it takes a lot of time and effort. However, the cabinets of your home are an integral part of your design and style, and with a simple coat of paint, the entire look of your space can be transformed. So though it can be a frustrating task for you, the team at Painter Bros will paint so that you don't have to!
We can handle all the cabinets in your home, including:
Cabinets offer many benefits for your home, from space to store your belongings to decorative additions that complete a room. However, if they are a color that blends with the wall or doesn't compliment the rest of the room, they can have a detrimental effect on the look and feel of a space. Our cabinet painting team can help you find the right color and finish for your cabinets so that they make an impression on your space.
Attractive Paint & Stain Options
There are a handful of attractive paint options that you can use for your cabinets. If you want to change or improve how your cabinets look without the use of any bold paint colors, paint your cabinets in wood and white. This two-tone combination is a popular choice for many homeowners that leaves a lasting impact. Other paint options for your cabinets include darker shades of gray, rich yellow, cool mint, and classic blue. Sage green is also an excellent option, especially for your kitchen cabinets, as this color enhances other hues present in the room. When it comes to stain options for cabinets, you can pick blonde, brown, white, gray, or cherry red. These stains bring attention to any room and work well in modern-looking spaces.
Color Psychology
According to color psychology, colors influence human behavior, mood, and emotion. For example, warm colors, like red or yellow produce emotions of excitement and joy, while cool colors like green and blue are often associated with safety and trust. You need to pay careful attention to the colors you pick for your cabinets to ensure that the room they're installed in creates the right mood. For example, painting your kitchen cabinets in gray could make the space feel unwelcoming without the right amount of natural light.
Choosing to paint or repaint your cabinets is one thing and deciding which color to use is another. The latter is usually a stressful process as you're bombarded with options. If you don't have any idea what color to pick for your cabinets, Painter Bros can help!
"Lucas in Houston was very knowledgeable and answered all of my questions and then some! I feel very comfortable working with Painter Bros."

- Ben Jones

"The team over at Painter Bros was really great to work with! The quality of work was outstanding. They were very efficient with their time and got in and out quickly while doing a great job. Would highly recommend!"

- Lehi Kafri
Update the Look of Your Home
Instead of replacing your kitchen cabinets, consider a kitchen cabinet repainting or refinishing project. During a kitchen cabinet painting project, the team at Painter Bros takes apart the kitchen cabinets to be able to paint and restore the look of the cabinets in every small crevice. Not only can we repaint the cabinets, but we can also provide new hardware or a glazed finish to completely transform their look.
Once the cabinets have been restored and repainted, our team then reinstalls the cabinets and paints over the transition areas between the cabinets and the walls to ensure a professional look.
Benefits of Cabinet Painting
There are many benefits to painting or staining your cabinets. You have a wide range of color options to give your cabinets a fresh new look. Since cabinets experience a great deal of wear and tear, a fresh coat can greatly improve the condition of your cabinets. If you are looking to increase the value of your home, cabinet painting is a great way to do just that. Cabinet painting is not as complex as other paint jobs and an expert job can make a great difference in your home.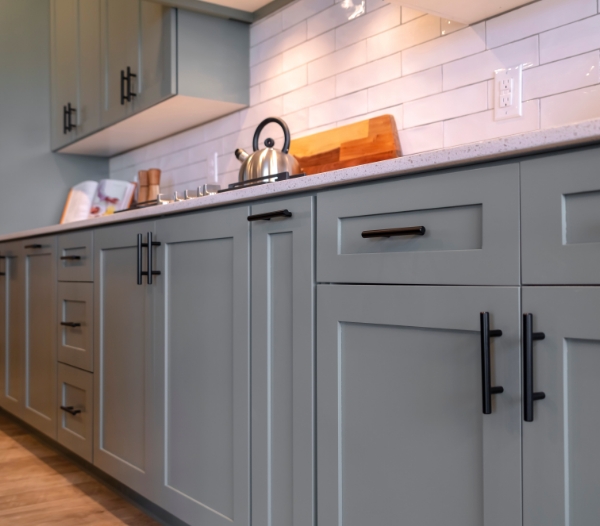 1

2

3

Protect Your Furniture & Non-Paint Areas

4

5
SOME OF OUR
Frequently Asked Questions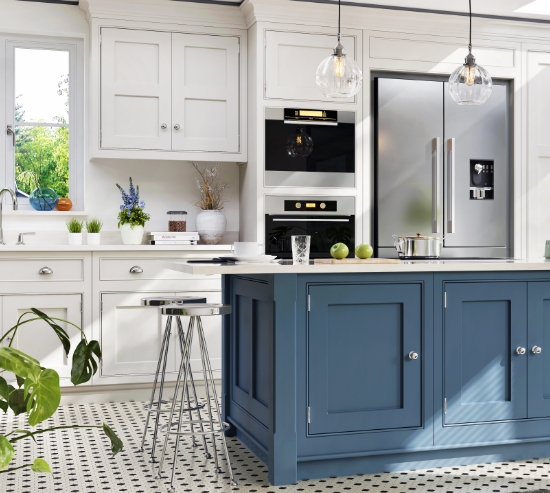 You need to consider a few things when picking color options for your cabinets. You should never pick one hastily because the wrong color can adversely affect the appeal of your rooms, the value of your property, and the mood you feel whenever you're indoors. Consider the size of your cabinets and how long you will be in your home. Assess the style of your kitchen, think about the colors of your walls, and consider the mood you want to create.
Our step-by-step cabinet painting process:
Step 1: Remove hardware and doors off the cabinets.
Step 2: Clean the surfaces to remove any splatter, grease, or other residues.
Step 3: Sand the surfaces to ensure that paint holds effectively.
Step 4: Apply primer-sealer to guarantee a properly bonded coat.
Step 5: Apply the paint using a foam sleeve mini roller or angled brush.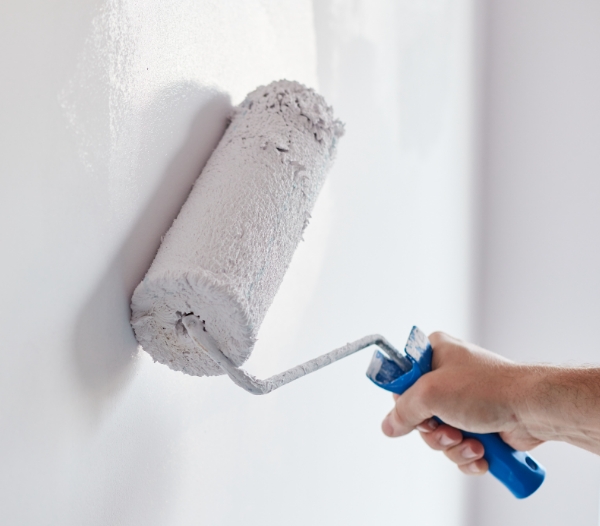 Skip the DIY & Trust the Pros
Cabinet painting can be one of the most difficult painting projects to take on alone. Not only is this project time-consuming and frustrating, but it can also be costly. And when you are finished, the results may not be as you were hoping. Our cabinet painters have developed a reputation for quality cabinet painting services and exceptional customer care that goes above and beyond to bring customers' ideas to life. With our team, you can rest assured that your project will be completed with skill, attention to detail, and as quickly as possible.
Cabinet Refinishing & Staining Services
Cabinet refinishing is an extensive process that involves cleaning, filling, making repairs, sanding, priming, painting, and then applying top coat. If any of these steps are missed, peeling and cracking may appear after one year. On the other hand, painting cabinets means spraying or rolling your cabinets with oil-based or latex paint to complete the job. Hiring kitchen cabinet painting contractors to refinish your cabinets has many advantages, namely restoring the original beauty of your cabinetry and maintaining the integrity of your wood cabinets.
Additionally, refinishing is cheaper than replacing your cabinets, so choosing this service will save you money. If you want to restore the tone and color of your cabinets, fix wear, and remove stains, refinishing or staining is a better option. You should also take this direction if you want your cabinets to achieve a more classic, natural look. Here are the differences between various common finishing options.
Painter Bros is dedicated to helping our customers turn their homes into the sanctuary they envision. Contact us to paint your bathroom cabinets, built-in shelves, closet storage, kitchen cabinets, pantry cabinet, and any other cupboard or cabinet style structures in your home.
Polyurethane Finish
This is the most common type of finish used in cabinets today and creates an incredibly hard coating.
Lacquer Wood Finish
Lacquer wood finishes are quick-drying and leave a tinted, opaque appearance.
Shellac Wood Finish
Although it's one of the oldest finishes used, many homeowners still choose a shellac wood finish because it doesn't turn yellow over the years.
Oil Finishes
Oil finishes penetrate deeply into wooden cabinets and harden the wood from within. This finish brings out the natural richness of wood, making your cabinets look more natural.
Water-Based Finishes
Water-based finishes are easy to apply and clean but don't provide long-lasting protection to cabinets.
Beeswax Finishes
Beeswax finishes are a non-toxic, safe alternative to chemical finishing products, which are ideal for homes with children and pets. This kind of finish can be used on wooden cabinets throughout the entire house.
You can also take your cabinets up a notch by applying custom finishes to them. These finishes leave a unique color on your cabinets, allowing them to stand out in any room. Antique finishes are a popular trend for mid-century style homes. This is a great option if you live in an ancestral home or would want to create an antique look indoors. Distressed wood, as the name suggests, aims to make your cabinet look weathered and worn. If you want to hide any scratches or damage, this finish is an excellent choice because its textured grain and rough edges conceal your cabinets' imperfections. A rustic wood finish will highlight the grains of your cabinets and make them look unique!