Additional Commercial Services
Our Contractors Are Ready for Just About Anything
Painter Bros is an expert commercial painting company with years of expertise in the field. Our contractors have experience working with small businesses as well as large commercial facilities, so we are ready to handle projects of all kinds. Our craftsmen are dedicated to making sure that you are 100% satisfied with our services.
Painter Bros is committed to providing the best commercial painting and contracting service possible. We aim to be a standard of innovation and excellence, not only as a painting service provider but also as a franchise business. To this end, we make sure every Painter Bros franchise partner embodies our values and is dedicated to our ultimate goal of exceeding client expectations.
"Lucas in Houston was very knowledgeable and answered all of my questions and then some! I feel very comfortable working with Painter Bros."

- Ben Jones

"The team over at Painter Bros was really great to work with! The quality of work was outstanding. They were very efficient with their time and got in and out quickly while doing a great job. Would highly recommend!"

- Lehi Kafri
Today's Biggest
Brands
Companies Large & Small Turn to Painter Bros for Their
Painting Projects and Additional Services
SOME OF OUR
Frequently Asked Questions
How do you restore concrete floors?

Regular maintenance for industrial concrete floors will improve longevity and reduce overall wear. We can use epoxy coatings to smooth the surface of a concrete floor while also protecting it. Joint fillers offer support for joints' edges, preventing deterioration and moisture seepage.

How many coats of paint require stripping?

One or two coats is enough, but if the wood has fine detail work, this might take three or four coats over an hour or more until most of the paint rises to the surface.

How do you remove old paint from a structure?

Heat, sanding, water blasting, and using a chemical paint stripper are all viable choices.

Should I remove the old paint before repainting?

No, this isn't required. It would help if you clear all of the paint that has failed. Typically, only specific locations where paint has been damaged must be removed.

How often should a commercial building be painted?

A commercial building should receive a fresh coat of paint every five to 10 years, depending on paint quality and its maintenance.

What is considered paint prep?

There are several steps to achieving a flawless business paint job.

Preparing and protecting items and surfaces: Any object or surface that will not be painted should be covered or removed.

Power washing: Power washing will remove paint sagging and surface contaminants using pressurized water heated to a high temperature.

Drying: After the building is cleaned, allow several days for the surface to dry completely.

Scraping: All loose and peeling paint will need to be scraped off.

Caulking: Caulking is used to seal cracks and gaps around doors, windows, pipes, ceilings, walls, and floors. It also helps the paint job look consistent. Water can enter your business if you don't caulk these places. It's also necessary for making the paint job appear uniform.

Priming: Priming provides superior adhesion of paint to the surface, increases paint durability, and adds additional protection for the material that is being painted.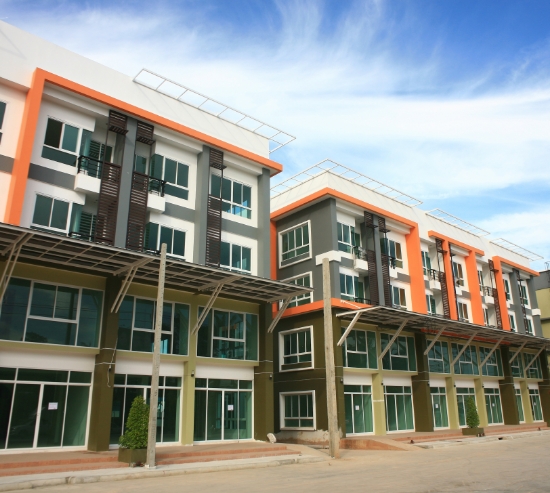 Your local Painter Bros team can help you with a wide variety of commercial repairs, maintenance, and other tasks. From ballard installation to base caulking and sealants to everyday facility repairs, we've got just about everything covered. Below are a few of the additional services our commercial customers call us for:
Removing Existing Paint
Removing old paint provides a smooth and clean surface before painting a building. This helps ensure that the new layer of paint is both even and long-lasting. Typically this is needed when a building is experiencing moisture problems, and is having trouble breathing. When multiple coats of paint are applied over a long period of time a building can lose its ability to breathe and release moisture.
Applying New Coating
Paint coatings will protect the surface and give it a fresh, welcoming look. Commercial coatings are designed for protective rather than aesthetic purposes. The following lists are the type of coatings we provide in our services: CMU coatings (concrete masonry unit), Lacquer, Polyurethane coating, Varnish, Powder coatings, Primer, Elastomeric, Acrylic, Epoxy
Remove and Replace Horizontal and Vertical Caulk Joints
Expansion joints allow the concrete slab to expand and compress without cracking. Expansion joints can be easily repaired if left untreated, ensuring concrete foundations remain intact. If done correctly, expansion joint repair can even help your foundation last longer.
Repair Damaged Exterior Substrates
Painting improperly prepared surfaces can impact coating integrity and service life. The majority of all coating failures are due to insufficient surface preparation, which negatively influences coating adhesion. Select and employ the appropriate surface preparation to ensure adhesion of the covering to the substrate and coating system service life.
Applying Siloxane Clear Coat Over Raw Concrete Masonry Block
Siloxane is used in a variety of ways to improve the look of brick masonry. It may be used to make the surface easier to clean, resist graffiti, give a glossy surface, or minimize water absorption or penetration. Siloxane slips into the concrete and masonry pores to prevent scaling caused by deicing salts while protecting vertical masonry.
Large Scale Rollouts and Refreshes
We specialize in Capex projects like fixed assets which are long-term assets vital to business operations. Property, plant, and equipment are examples of fixed assets. This is where we excel in supplying bulk purchase orders and multi-location projects. The way we power wash the surface is determined by the substrate, the climate, and the surroundings.
Concrete Floor Refinishing
Concrete is a porous material. It's vital to seal a concrete floor to protect it and keep it in excellent form. Filling cracks and seams, staining, and polishing are steps that are taken for concrete floor restoration. n addition to refinishing concrete floors, we are happy to install new concrete patios or floors for you.
Pressure Washing
After pressure washing, all filth, grime, and cobwebs are removed. The new coat must have a solid basis on which to bond with the underlying layer. Our affordable painting and pressure washing services can ensure that the paint application goes smoothly by removing any debris from the surface. The way we power wash the surface is determined by the substrate, the climate, and the surroundings.
Parking Lot Striping
The Painter Bros team can help make your parking lot easier to navigate with professional parking lot striping services. We have the tools and equipment to ensure clean, straight, and attractive lines that will increase safety and convenience for your business.
Fence & Gate Repairs
If your fence or gate is in need of repairs, our commercial contractors can repair or replace them for you. We'll arrive with the tools we need to provide a fast, lasting solution so that you can get on with your day.
Base Cove & Diamond Plating Installation
Our team can install this protective trim at the base of your walls to protect them from damage and make your interior more aesthetically appealing. We can also install diamond plating to make stairs and other areas safer to navigate.