Commercial Epoxy Floors
Safe, Durable & Lasting Flooring for Your Business
At Painter Bros, we pride ourselves on offering only the best commercial epoxy floor services. We have established ourselves as one of the top industrial flooring companies by operating under four core values:
Integrity
We stand by our experience when it comes to providing superior commercial epoxy flooring services. Whether you need commercial kitchen epoxy flooring or garage floor coatings, we focus on quality and service regardless of the floor project we accept.
Experience
We are proud of the level of skills and services that we offer. Through the years, we have conducted our training and operated under the drive for excellence. We are confident that our professionals can deliver superior services by utilizing the best techniques.
Trusted
All members of our epoxy flooring team have undergone vetting and training. Your business can rest assured that our commercial contractors have all the warranties and insurance needed under the company. Our trustworthiness has gotten the attention of many recognized brands.
Consulting
As experts in our field, you can rely on our knowledge of the ins and outs of the commercial epoxy floor industry. We offer professional advice and guidance while leading you through actionable solutions to maintain your commercial epoxy floors.
"Lucas in Houston was very knowledgeable and answered all of my questions and then some! I feel very comfortable working with Painter Bros."

- Ben Jones

"The team over at Painter Bros was really great to work with! The quality of work was outstanding. They were very efficient with their time and got in and out quickly while doing a great job. Would highly recommend!"

- Lehi Kafri
Our contractors recommend commercial epoxy floors for the following types of properties:
Shop Floors: Epoxy can protect shop floors from the heavy carts, trolleys, and foot traffic it sees every day. Consider installing a durable layer for your shop floors for extra protection.
Automotive Bays: Auto repair shops may benefit from epoxy's slip-resistant quality to prevent accidents in a setting with heavy machinery. Epoxy itself is also durable enough to withstand the vehicles in these areas.
Parking Garage Decking: Epoxy's durability is suited for protecting floors that encounter heavy objects, such as cars in a parking garage. Epoxy floors can also utilize colors to designate common traffic signs while maintaining their durability.
Exterior Multifamily Apartment Decks: Exterior decks that are exposed to the elements can maintain their floors' durability and beauty with an epoxy coating. Epoxy protects these areas from the light wear that they may encounter from guests walking around the deck.
Safety Lines on Floors Where Bailer May Be: Epoxy can utilize colors to make floor signals. These lines offer functionality and durability.
Parking Lot Striping: Epoxy can serve as assistive visual guides in parking lots. The material's durability also helps it withstand the wheels that may run over the stripes.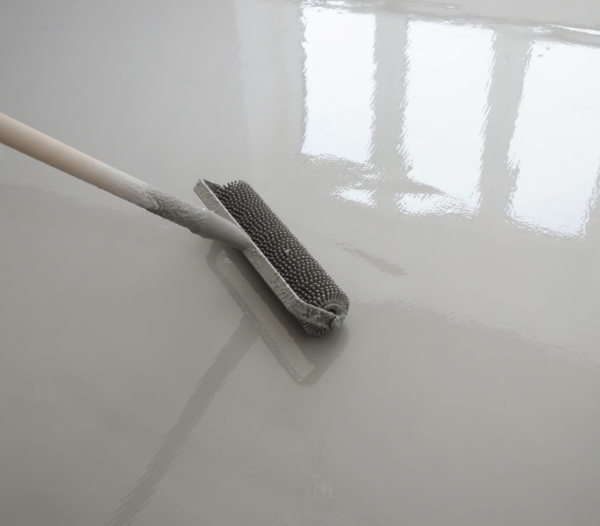 Today's Biggest
Brands
Companies Large & Small Turn to Painter Bros for Their
Painting Projects and Additional Services
SOME OF OUR
Frequently Asked Questions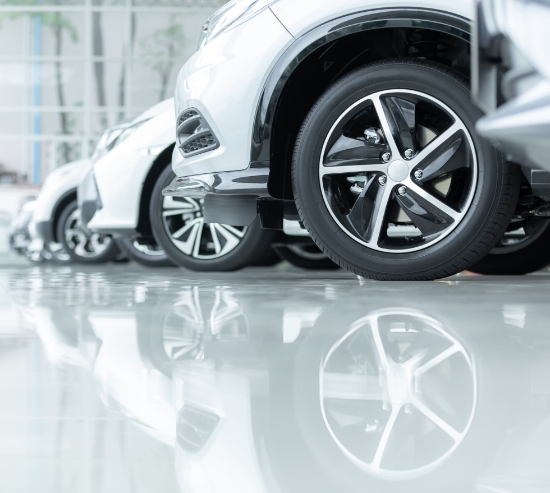 Why Is Epoxy Flooring Good for Commercial Use?
Epoxy floors have several benefits for commercial settings. These floors are versatile enough to withstand different environments, from kitchens and supermarkets to hallways and factories. Here are some benefits associated with commercial epoxy floor coating:
Very Safe Coating for Hard Floors
Epoxy is a safe material to use for hard floors of industrial settings like factories, storage units, and warehouses. These areas may involve heavy machinery that affects floor quality, which epoxy can help maintain. Epoxy is a non-toxic material, making it safe to apply in sensitive commercial areas.
Fire Impact & Slip Resistant
On top of its non-toxic feature, a commercial epoxy floor can resist fire impact and prevent slipping. This protective quality helps a commercial floor last longer than it would without an epoxy coating. The non-slip feature, in particular, may be useful in areas that commonly encounter foot traffic. A commercial kitchen with epoxy floors may especially benefit from a slip-resistant feature.
Easy to Maintain
You can easily maintain commercial epoxy floors by wiping minor spills and wet mopping major stains. As a material, epoxy repels dirt, stains, dust, and debris. As such, you can simply conduct constant light cleaning and occasional deep cleaning to preserve your epoxy-coated floor.
Durable
Commercial areas tend to encounter more foot traffic than residential settings. Commercial settings may also involve heavy loads, making a protective layer for their floors necessary to protect the surface. Epoxy is extremely scratch and chip-resistant, on top of being able to withstand heavy objects. This durability contributes to the material's long lifespan.
Environmentally Friendly
Epoxy becomes solid once it dries on the floor completely, eliminating the risk of the material contaminating other objects. Epoxy may damage the environment with irresponsible installation. With Painter Bros, however, you can rest assured that our professionals handle these materials properly to avoid environmental harm.
Cost-Efficient
Combining durability and ease of maintenance makes epoxy floors a cost-efficient sealing method. Their durability and easy maintenance offer a long lifespan. Plus, their overall safety makes the epoxy floors ideal for commercial settings that are more prone to spills and heavy loads.
Epoxy Process
Painter Bros has broken down our commercial epoxy floor installation process into six steps:
Step One
We sweep all debris off the floor that is due for epoxy coating. This step makes sure nothing gets trapped in the final epoxy floor.
Step Two
We grind the floor if it has an existing coating. We must remove this old coating with an industrial grinder to make way for the new epoxy we will install. Failing to get rid of the initial coating may affect how well the new epoxy bonds with the substrate. Plus, leaving old coating intact would boost the chances of premature failure.
Step Three
We use a muriatic acid solution to acid etch the concrete floors. This process removes grease and oil that may affect the epoxy bonding. In addition, this step opens the concrete's pores to prepare it for accepting the epoxy coating properly.
Step Four
We use a squeegee to apply epoxy on the prepared floor. We must build the epoxy's thickness slowly to achieve a proper finish and durability. We tend to apply multiple coats to achieve the best commercial epoxy floors.
Step Five (Optional)
Depending on the purpose of having an epoxy coating, we may introduce freckling or media to the floor to provide slip resistance. Commercial kitchen epoxy flooring usually utilizes such features to prevent workers from slipping.
Step Six
The final step involves applying a clear coat of epoxy for extra protection.
To learn more about our commercial epoxy floors installation process and all our commercial facility maintenance and repairs, reach out to Painter Bros today. All our jobs are warrantied and insured and we offer free commercial service estimates. Our team looks forward to speaking with you!