Residential Exterior Painting in Phoenix, AZ
High-Quality Exterior House Painting Near You
Whether you're looking to refresh the look of your home, protect it from the elements, or simply add a touch of personality to your outdoor space, you can count on Painter Bros of Phoenix. Our range of exterior house painting services extends to every corner of your property, covering everything from your home's walls to your fence.
Your home's exterior comes in contact with various elements, and with time can show signs of wear and tear. It also creates the first impression your house leaves on whoever sees it. The team at Painter Bros is happy to give your home a fresh coat of paint, and we understand that achieving exceptional results demands both time and commitment. We'll invest as much time as necessary to ensure your painting project is completed exactly how you want it.

Are you looking to spruce up your Phoenix home with exterior house painting? Get in touch with our experts today at (602) 900-9629 or request a free estimate. We look forward to hearing from you!
Experts That Paint A Variety of Surfaces
Our painters have experienced projects with various surfaces, and know which paints are the most long-lasting for each.
The surfaces we prep and paint include:
Our painting services are not just limited to your house! We can also prep and paint the following:
Fences
Decks
Garages
Railings
Doors and windows

Each area of a home needs a unique, specialized approach. Our skilled exterior painters in Phoenix are equipped for any challenge, so why take it on yourself when you can reach out to us for help?

"Lucas in Houston was very knowledgeable and answered all of my questions and then some! I feel very comfortable working with Painter Bros."

- Ben Jones

"The team over at Painter Bros was really great to work with! The quality of work was outstanding. They were very efficient with their time and got in and out quickly while doing a great job. Would highly recommend!"

- Lehi Kafri
Benefits of Exterior House Painting
When you turn to Painter Bros of Phoenix to paint your home's exterior, benefits include:
Preventative Maintenance: Painting is not just about aesthetics; it's also about identifying and addressing underlying issues such as wood rot, mildew, or insect damage. We keep an eye out for this during the painting process, to catch these problems early on and prevent costly repairs.
Personalization: House painting is an outlet to express your personal style and update the color scheme to match current trends or your evolving preferences.
Improved Weather Resistance: High-quality exterior paint is made to withstand the rigors of changing weather conditions. It won't fade, peel, or crack easily, ensuring that your home continues to look great and stay protected for years!
Increased Property Value: If you're going to sell your home, it's important to note that a well-maintained exterior can significantly increase your property's value. A fresh paint job gives the impression that your home has been well taken care of, making it more appealing to prospective buyers.
Painting your home's exterior is a prudent investment that goes beyond aesthetics. It offers protection, longevity, and the opportunity to create a beautiful, welcoming appearance that you and others will appreciate for years to come.
To put a personalized and protective touch on your home's exterior, give us a call at (602) 900-9629 or request your free estimate!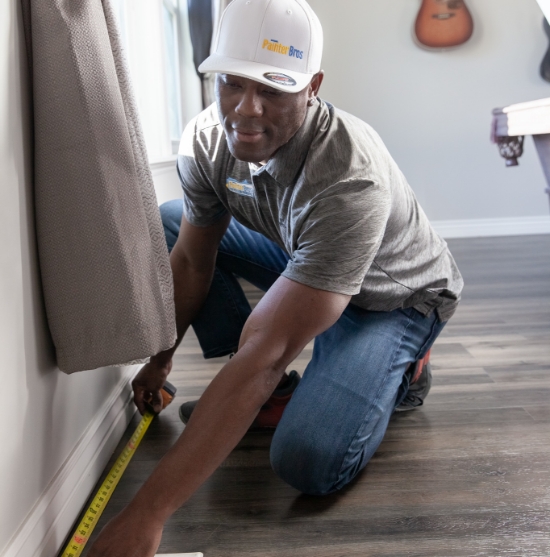 1

2

3

Protect Your Furniture & Non-Paint Areas

4

5
Today's Biggest
Brands
Companies Large & Small Turn to Painter Bros for Their
Painting Projects and Additional Services